Cornwall Holiday Luxury Apartments, Self Catering, at a Discount
 For Special Offers, for cash payments, Please phone 0781 581 3321
if you book through an Online Travel Agency, OTA's,, it will cost you extra
Book Direct, for the best Price Guaranteed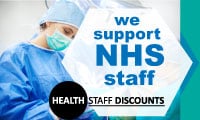 NHS Staff, I give a discount, off OTA's Internet, Rack Rate, not available with any other special offer, on all rooms and luxury suites. NHS Security badge must be shown to get discount.
Only available by telephone,  so  please ring me,   for the special offers,
E-mail: nigel@orchardmanor.co.uk
Self Catering, Luxury Apartments Suites,,
Penthouse, Apartment Suite. Sleeps 4 persons, from, £ 2,576.00 per week
Bluebell, Apartment Suite, Sleeps 2 persons, from, £, 1,323.00 per week
Lilly. Apartment Suite, Sleeps 3 persons, from, £ 1,876.00 per week.
Please call me to see if I have availability for the self catering suites.
I also  may have some Special Offers not listed here.
only available for direct bookings, when Booked through  Nigel
Please Phone,!!, +44 (0) 7815813321, kind Regards, Nigel Orchard.
Offer 1    5% discount, off OTA's rack rate,, not available with any other Special Offer, for Long Stay Guests on all rooms and luxury suites, that is Booked for 7 Nights or more, valid dates, 17th March 2022,  until the 26th May 2022.
Free Easter eggs ,   if booked through me,  for all children,  on  all rooms booked over the Easter period.
For all Special Offers on the Luxury Apartment Suites  please give me a Call,  for the extra good deal.
Accepted Payments, Bank Transfers, and Cash Payments.
There is coffee  and tea in all rooms  if you need milk or orange juice  for your children,  Please  just ask,  all  Free of Charge. 
Three night Valentines Offer
Celebrate Valentines at Orchard Manor. Let us provide you with the perfect back drop for love on Valentines  2022…The ingredients that help make for an unforgettable romantic break are to be found right here.  Sparkling wine and a box of chocolates await you in your Luxury suites,  a fantastic full traditional English breakfast the following morning.
Orchard Manor  is sure to provide the ideal backdrop for a little love.   Enjoy Valentines Day in  Cornwall this February and discover why so many couples choose  Orchard Manor to make their romantic break truly memorable.
3 Night stay ,  Valentines Offer –   from,  £ 600.00, for 2 persons, for a Luxury suite,   (only 3  Luxury Suites Available,)   including wine,  chocolates and breakfast.
Just call or email me to check availability and to book.
Offer is valid for arrivals between  06/4/22 to 20/4/22 Subject to availability.  Bookings  to be made directly with  Nigel.
 Please phone  (01726) 883168,  or my mobile number,   0781 581 3321,    Thank you.  Nigel.